Gift Certificates
Gift certificates are available in any amount for our services. All gift certificates are non-refundable but may be transferred to another person. Gift certificates have a 6 month from date of issue expiration. To purchase a gift certificate please contact us by phone, email, or with the gift certificate request form below. A special top quality gift certificate which gives the name of the sender, receiver and if desired the occation will be printed and mailed within 48 hours of the date your initial payment is recieved. The following information will be needed:
Name of person receiving the gift certificate
Name of person giving the certificate
$ amount the gift certificate
Special reason that gift certificate is being given
All gift certificate payment should be remitted to the Corporate office at:
CES Corporate Office
314 Lucy Lane
Pinehurst, Texas 77362
Gift Certificate Application

Over Night Camping Trips On Horseback
Over Night camping trips are available in Sam Houston National Forest, Little Lake Creek Wilderness or at Lake Somerville, Nails Creek Equine Camp Ground. Each location offers different accomodations. Packages are available with food, camping gear, etc. provided or you can supply the required items and save on the cost of the trip. All packages include a horse for each rider, all the required tack, care for the horses through out the trip, and an experienced guide. Packages start at $225 per person for a 24hr period.
Sam Houston National Forest
Located just north of Montgomery, Texas is primitive camping. We must carry all supplies in by horseback. There is no running water, electricity, bath rooms, etc. The camping area is located along side Lake Conroe which offers fishing, swimming, night time camp fires and evening horseback riding.
Lake Somerville
Located off Hwy 290 past Brenham, Texas has established camp sites with running water, electricity, public rest rooms and showers, mile marked trails, etc. While this location is less primative and has the basic needs available the cost is greater for this trip due to the additional distance and cost of the camp sites. Prices begin at $300.00 for a 24 hr period. This site offers swimming, fishing evening horseback riding, sites with picnic tables and above ground grills, etc. We are unable to build on ground bond fires at this site due to park restrictions.

Youth & Adult Horseback Riding Lessons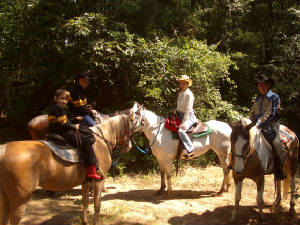 Horseback riding lessons in both english or western disciplines for both children and adult riders. Lessons are $60 for a one hour lesson at our barn. Students are allowed to try 1 riding lesson at a cost of $60 to see if the program will work for them. (There are some discounted prices available just give us a call or email for details.) After the 1st lesson if they deside to continue with future lessons they are required to pay for 4 lessons at a time. They are given 2 months (there are some cases where an exception will be made) to complete the set of 4 lessons. We do not give refunds for paid lessons. Paid lessons must be taken or the amount paid will be lost
We can come to your location and work with you and your horse. There is an additional charge for this service. It varies depending on the distance that must be traveled. Call or email for more details.

Horse Training
Larry Hutchinson, our resident trainer has more than 30 years experience in horse training. He can start your colt with his common sense, no buck, gentle approach, correct problems and illuminate bad habits with your adult horse. He fine tunes them to perform specialized functions such as team penning, roping events, mounted patrol activities, trailer loading, etc. References available upon request.

Partial & Full Horse Lease Programs
Partial Lease Program:
Gives Leaser 50% use of the horse & stable 50% use, terms are negotiable. Stable is responsible for all feed, vet and other care giving necessary for a healthy horse. All you have to do is come and ride.
$300 per month
Full Lease Program:
Gives Leaser 100% use of the horse, stable will only use horse with the permission of the leaser. Stable is responsible for all feed, vet and other care giving necessary for a healthy horse. All you have to do is come and ride.
$500 per month
Tack Rental:
Use of our riding tack, including but not limited to saddle, bridle, and all grooming equipment you will need to enjoy horseback riding at it's fullest.
$50 per month
Horse Lease Pros & Cons
| | |
| --- | --- |
| | |
| No unexpected out of pocket expenses for emergency vet calls, feed, etc. | The horse you are leasing is for sale and may have others who are interested in purchasing it. |
| All daily requirements such as feed, vet, farrier, the work needed to keep the horse healthy are covered. | Partial lease horses may be assigned to an alternate activity. |
| No need to purchase expensive tack and equipment - for a small monthly fee it will all be supplied for you. | Lease terms usually require a 3 or 6 month contract. |
| Lessee has the right of refusal in purchasing their leased horse. |   |
| If your lease horse is lame, injured, or unable to be ridden or there is a personality conflict, another horse may be substituted (subject to availablity). |   |
| Friends can rent a CES horse by the hour and ride with your at our stable. |   |
| You can tryout a horse you are interested in purchasing before you buy it. Also an excellent opportunity for a child or adult interested in owning their own horse in the future when combined with lessons. |   |
| You can participate in our Guided Rides in the Sam Houston National Forest on your leased horse for the guide fee cost. (per availability) |   |

Work To Ride Program
There is currently a few slots open for our work to ride program. This is a program designed to help persons who have a real interest in working with horses, are not afraid of hard work, and can't afford the expense of paying for riding. After every 4 hours of work performed by the worker they will receive 1 hour of either riding lessons or free time riding at our barn. Hours may be stacked and after the accumulation of 12 hours the worker may opt to go on one of our guided rides (availability permitting).
The work at a barn is not easy work and consisted of cleaning stalls, picking up and stacking wood in burn piles, cleaning spider webs, grooming horses and other horse related activities as needed.
For consideration in this program please fill out the application below.
Work To Ride Program Application